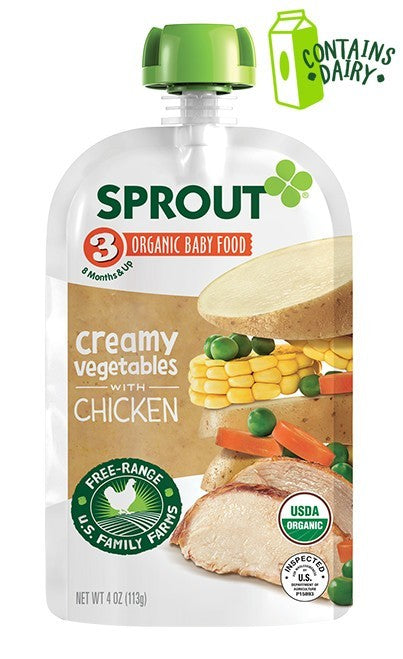 Sprout Organic Stage 3 Creamy Vegetables with Chicken 4 oz
Regular price ₱0.00 ₱150.00 Sale
Sprout Creamy Vegetables with Chicken organic baby food is a hearty blend of whole, organic vegetables, and chicken, the perfect combination to satisfy your little one's growing appetite. Made only with USDA certified organic and non-GMO ingredients, Sprout Organic Baby Food contains no concentrates, preservatives, additives, or anything artificial. Our organic, free-range chicken is sourced from U.S. family farms and is raised without added antibiotics and without growth-promoting hormones, so your baby gets the cleanest food possible!
4 grams of Protein
2 grams of Fiber
USDA Certified Organic, Non-GMO
Free-Range Chicken from U.S. Family Farms
Whole Foods – No Concentrates
Nothing Artificial
Sprout Stage 3 purees offer complex combinations that are ideal for babies who are developing taste preferences, trying new textures and learning to self-feed.