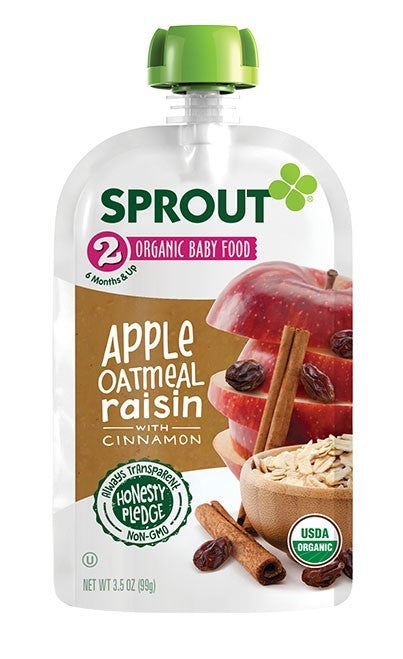 Sprout Organic Stage 2 Apple Oatmeal Raisin 4 oz
Regular price ₱150.00 Sale
SPROUT STAGE 2 BABY FOOD POUCHES offer tasty combinations of whole, organic fruits, veggies & grains. We have options to satisfy even the pickiest of eaters, including fruit & veggie, fruit & grain, plant-based protein, and new bone broth protein purees!

    CLEAN INGREDIENTS: Sprout's pouches contain only USDA Certified Organic and Non-GMO ingredients, never anything artificial! We believe in nutrition from whole, organic food; our purees contain no additives, preservatives, fillers, or concentrates.

    TRUE VARIETY: We don't just use Apple or Pear in our baby food purees. Our organic baby food pouches have more vegetable leading flavors than any other baby food brand, with 50% of Sprout's baby food purees having a vegetable as the first ingredient!

    SPROUT COMMITMENT: Sprout is committed to providing delicious and nutritious organic baby and toddler food to your family. Sprout's baby food pouches, toddler food pouches, and toddler snacks are made from the cleanest & safest ingredients.