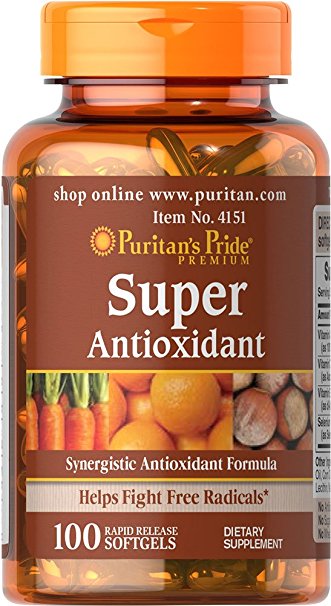 Puritan's Pride Superantioxidant 100 softgels
Regular price ₱980.00 Sale
The essential nutrients in our Super Antioxidant Formula are some of the best antioxidants available for fighting free radicals.
SUPPLEMENT FACTS
Serving Size 1 Softgel

Amount Per Serving    % Daily Value
Vitamin A 25,000 IU        500% (as 100% Beta-Carotene)
Vitamin C 500 mg          833% (as Ascorbic Acid)
Vitamin E 400 IU          1,333% (as dl-Alpha Tocopherol)
Selenium 50 mcg             71% (as Selenium Yeast)
Directions: For adults, take one (1) softgel daily, preferably with a meal.

No Artificial Flavor or Sweetener, No Preservatives, No Starch, No Milk, No Lactose, No Gluten, No Wheat, No Fish, Sodium Free.