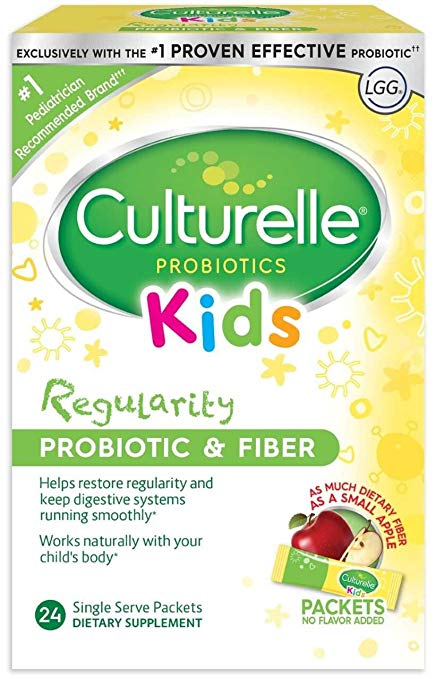 Culturelle Kids Regularity Probiotic and Fiber Supplement (24 packets)
Regular price ₱1,350.00 Sale
FROM THE #1 PEDIATRICIAN RECOMMENDED PROBIOTIC BRAND, Culturelle Kids Regularity Probiotic & Fiber Packets provide a safe, gentle and drug-free way to help restore regularity and keep kids' digestive systems running smoothly.*

NATURALLY SOURCED INGREDIENTS. Contains a unique blend of naturally sourced ingredients developed just for kids' digestive systems. Flavorless packets; mix into cool food or beverage to serve. Great mixed with applesauce or yogurt.

WITH THE #1 CLINICALLY STUDIED PROBIOTIC STRAIN IN KIDS, 2.5 billion CFU's of Lactobacillus rhamnosus GG (LGG), to balance intestinal bacteria and minimize discomfort while helping get your child's digestive system back on track.*

3.5 GRAMS OF DIETARY FIBER, the equivalent of one small apple, sourced from whole fruit kiwi and inulin – a prebiotic vegetable fiber from chicory root.

GENTLE ON A CHILD'S DIGESTIVE SYSTEM. Free of the following: gluten,▴ dairy and sugar. No harsh stimulants. Best for toddlers and children age 1+, take 1 packet up to three times daily.